Laura Fatini: We fight against social disadvantage in Sarteano through The Risk-Taking Theatre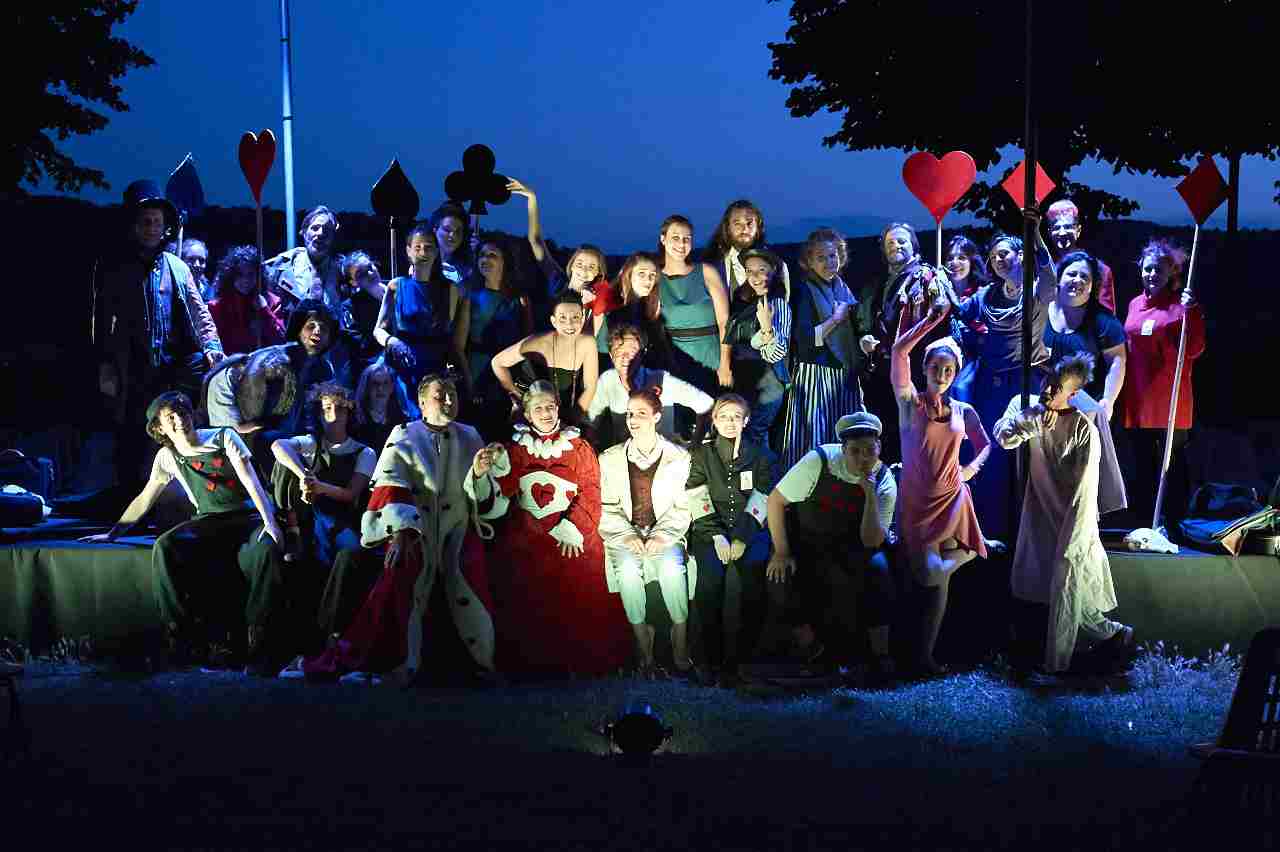 Laura Fatini is the deputy chief and one of the two directors in Teatro degli Arrischianti (The theatre of those who take risks), which is based in Sarteano (Tuscany, Italy) and is the place where the New Academy of Arrischianti – a community theatre school plays its plays. Fatini is born in a village close to Sarteano and obtains a Political Philosophy degree from the University of Perugia, writing her thesis on the political theatre of Albert Camus. She has been dealing with arts ever since the age of 4, studying ballet, dance, theatre and becoming in 2009 the first teacher after the establishment of the theatre school of Sarteano.
Teatro degli Arrischianti is a theatre of the people, by the people, for the people of Sarteano and the region (population of less than 5000 people). It is established in 1986 as a community theatre of amateurs. However, both the volunteer actors and their directors approach their theater hobby with a great degree of professionalism and seriousness. It is a theatre company that has important social functions, trying to create sense for the locals to stay in the town and not to migrate to larger cities in search for better job and opportunites. A lot of the plays deal with social issues, approach important historical personalities psychologically, unveil the contemporary human condition of loneliness, absurd and suffering, help the spectator to overcome prejudice, to think and to change its mind and heart, but actors also make funny plays to entertain their audience.
Representatives of Teatro degli Arrischianti (Ludovico Cosner and Francesco Pipparelli) participated in the International Festival of Danubean Theatres, which took place in Giurgiu, Romania, on 18-22 October 2017. Baricada interviewed Laura Fatini trying to understand how her theatre company functions and what are the effects of this community theatre for the local society of Sarteano and the region.
Mrs. Fatini, a lot of people from various regions in Romania and Bulgaria suffer problems, similiar to those that the people of Sarteano face: there are jobs only in the big cities, young people don't find opportunities and meaningful income in the villages and small towns, important historical places become depopulated. How does the theatre that you are part of contribute to the better life of its community, which in its turn participates as volunteers in all your activities?
Our town is very small. It's less than 5000 people. We live in Tuscany. Our life is probably very different from the life of people living in big cities.
Many people in our region have problems with finding a job. Usually adolescents study at the high school not in Sarteano, but in Montepulciano which is 20 km away. If you want to go university, you have to go to Florence, Rome or Milano. After they finish their university studies, people often remain in the big cities.
One of my aims is through theater to give people a reason to stay here. They should be able to work and to come back. I hope they could find a social reason to come back, returning because of art.
I guess that your actors play theatre only as a hobby, but they work something for money. What is the most common job in your town?
There are carpenters, teachers, students, electricians among our actors. Usually young men work with their hands. They do heavy manual work. They work in vineyards, in the fields, etc. Women are waitress, teachers. For all of them theater is like a hobby. But they are very high quality actors. They work with professional directors. Last year we had a very important director from Spain. However, our actors can't be employed as such.
What is the history of Arrischianti?
Arrischianti started more than 30 years ago. At that moment the theater building, which was built in the 18th century was closed. Enthusiasts started to play once a year in a church that wasn't used as a church any more. They took the name Nuova Accademia degli Arrischianti from the former academy. Arrischianti means taking risks, these are people who want to take risks. In 2000 the theatre building was reopened. Arrischianti wasn't the main company that mounted plays here. It played only once a year. After some years, we thought we could invite theatre experts to have residency here. I was the first teacher that started the school in 2009. 5 years ago we started the first residencies.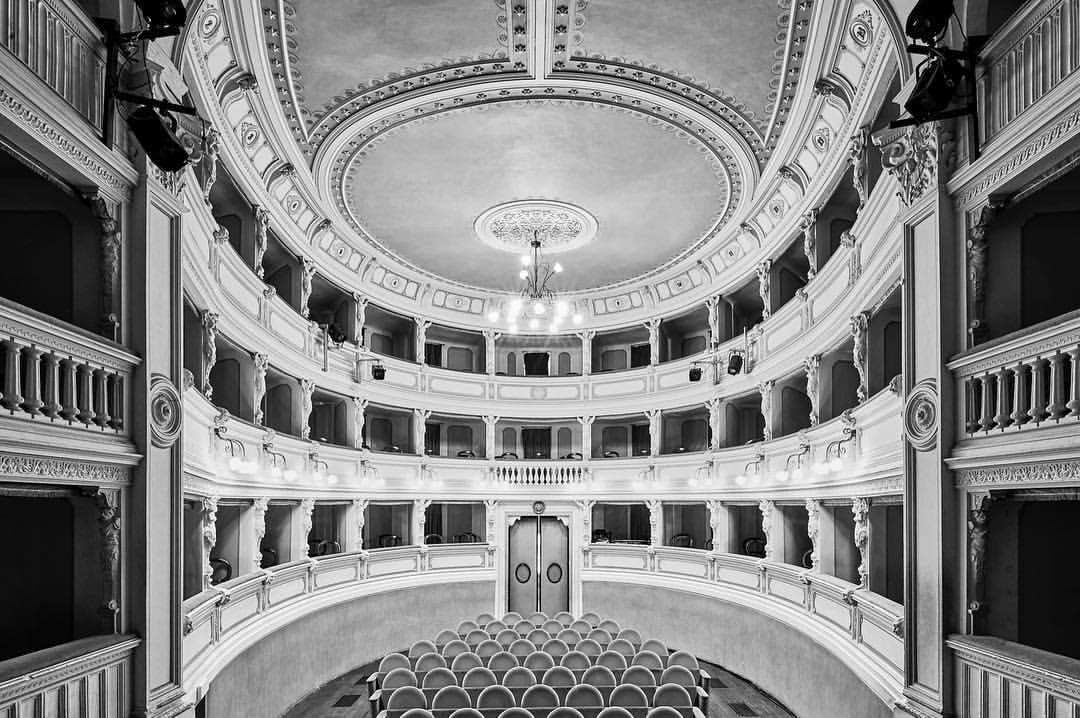 Your colleagues in Giurgiu said that all of your actors were volunteers. But how is the theatre sustained financially?
Arrischianti is a non-profit association. Anyone who wants to be a part of Arrischianti has to be a volunteer.
The only people receiving salary are me and the director, but we are paid only for a part of our work of theatre directors and not for the institutional part of our job: we understand the importance of volunteers' work, and we would like to encourage those who'd like to become professional.
The theatre receives some amount of money from the municipality, and we have a convenzione (a kind of a contract) for our duties (such as cleaning, taking care of the building, open and close the theatre for every event that take place there). We don't receive money to organize a theatre season, but we have an agreement with the municipality to organize 2-3 artistic events every year.
At the same time, during the last days of the year and during the summer, we organize plays with large public. This summer I directed 40 actors on the stage for the play "Much a do about nothing" by Shakespeare. When we organize these plays for the last day of the year and the summer we make a little more money that we use for the season next year and for small projects of professional theater. In December a professional actress will present one of my monologues.
It's like a circle – we do theater to make theatre.
Tell me about the most important part of your project – the people. How do you change the life of the audience? How do volunteers participate? How do you influence the community?
The best thing that happens in our theater is that it is open most of the year. People frequently come here and ask if there is something to be played this evening. It is like a focal point. If the lights are on, somebody is in and they enter. So we are very much a part of local community's life, unlike the role of theatre in other villages.
People usually don't watch the rehearsals, but wait for the premiere. However students of my workshop come to see the rehearsal of the other plays. So it is like a community. Students are not only from Sarteano. They come from villages of up to 40 km.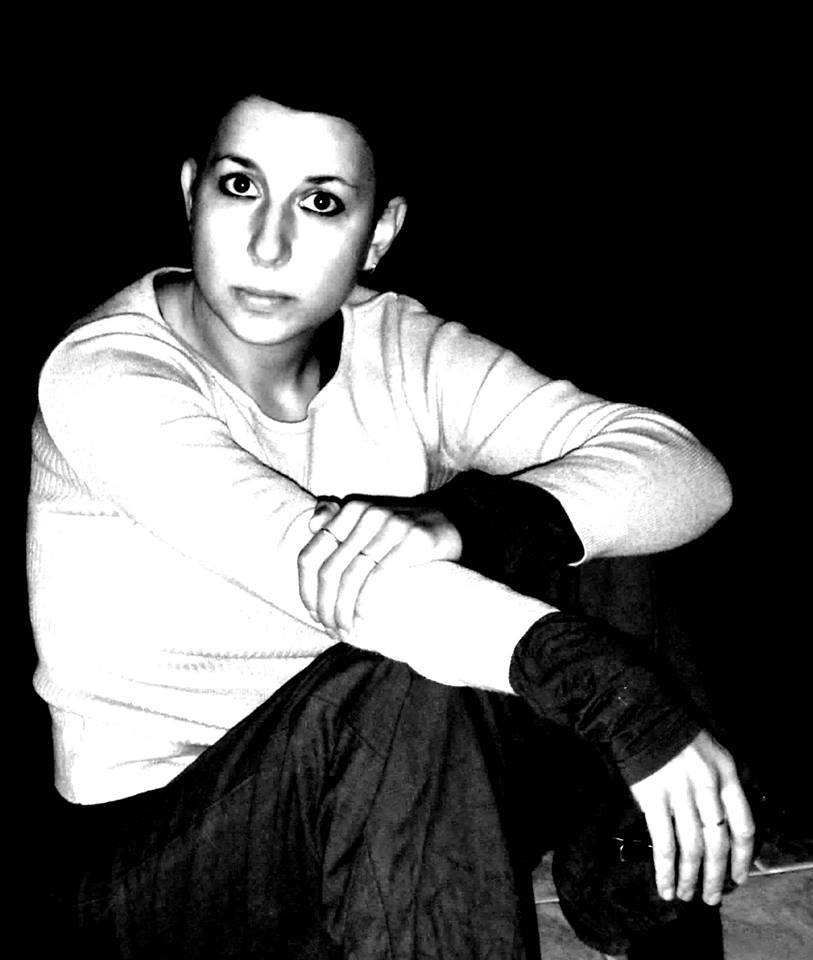 How did you become the main teacher in the Academy of Arrischanti?
I was born in 1979 here in a small village near Sarteano. I discovered my passion for theatre when I was 16. I studied classic ballet and dance ever since I was four years old. I was in love with arts. But I never thought that my art would be theatre and not dance.
We live in a very particular area from a theatre point of view. Near Sarteano there is Montepulciano – a small village but bigger that Sarteano. There exists Cantiere Internazionale d' Arte. This is an international festival, founded 42 years ago, by a German composer, Hans Werner Henze. It is a very special festival, where professionals in music, theatre and dance meet amateurs. So it is about teaching and working together. I started to work with big names of Italian theatre at this festival. I fell in love with theatre there.
Once at my high school they organized a workshop and I attended it. I started to work with director Carlo Pasquini being his assistant. After high school I went on to study political philosophy. I discovered Albert Camus. I decided to write a thesis about him, because he was a philosopher and at the same time a dramaturge. He came from the colony Algeria. He was a communist during Second World War in France.
Last year I wrote a book about Albert Camus' biography together with two authors and I wrote the last part of the book about theatre. I was very interested in "The Rebellion" – in the man who says "No!".
I understand that theatre festivals and community theatres are a popular way for social entrepreneurship in Italy?
Yes. When I started working in theatre I started working in a very particular community theatre in Italy and that is "Teatro Povero di Monticchiello". This very small village is so near to Sarteano that I was so lucky to be in contact with them. It is a community theatre and they started to play 51 years ago.
They started doing theatre because in the 50s this village was dying. They decided to make theatre, to go to their square and start playing to stop the loss of people and at the same time to reflect about their life.
Every summer they play for one month. They are the actors of this play. They are 40-50 people. They won the Ubu prize because of their story, a very important award in Italy
So I understood theatre is a very important tool to spread a voice, to be heard and to say no. That's why I wanted to speak about my adaptation of Camus' dramas. I started to understand that my idea of theatre was not only the idea of having fun together, but to spread ideas and doubts. I don't trust people that don't have doubts.
Which plays of Camus challenged you to recreate them on stage?
When I fell in love with Camus I adapted his play Caligula about the Roman emperor. He was crazy, but in Camus' view he was crazy, because he had discovered the absurd of life. The other one I directed was "The State of Siege". It's about a tyrant from abroad that comes to Cadice to take its people as hostages. It is also about how nazism and fascism works . It is very political. Camus wrote it to tell how authoritarianism works inside a given village and society. I use this play to speak about economic crisis. In my play the tyrant was not a Nazi, but a businessman. I did this in 2009.
I guess you have put on stage various dramaturges?
At Arrischianti I started working like in the big theatre schools in the cities – dealing with Stansislawski, Chehov, etc. It was a new thing here. We are not a big city. If people here want to study to become actors, they have to go to Rome and Milan.
I started to work with some colleagues – directors and teachers, I invited them to come and teach here. We organized workshops. I don't want that my school is only my school. I'd like the students to meet other directors. After nine years we work with several teachers, directors and I organize workshops with teachers from Spain, France, Denmark. We also try to make connection with several students. That's how we became a part of the project "The Complete Freedom of Truth", that made me to know the people of the Giurgiu theatre.
This is the project of the last year. Since 2009 the school inside Arrischianti has improved. We started with 10 people (16-20 years old). Now we have school of 60-70 people (from 3 to 60 years old). It is very important for us. We are only 5000 in Sarteano. Now the town is known in our area for our pedagogic approach.
So you are approaching theatre professionally, but does Arrischianti create professionals?
We are not going to create professional artists. Not for the moment. This is not my aim. In order to be a professional you have to go to big school. However those people who participate in the theatre could have a professional approach to theater.
At the same time we are teaching the audience how to recognize a good theater. We have creative residencies in our theater. The ownership of theater is in the municipality. We organize a festival every year. We have 150 seats in theater. In Italy we have a trend that in order for big theaters to have audience, they make seasons with the participation of big TV stars. We don't do it, first of all because we could not afford it, but mainly because we are looking for something different. We look for high quality plays of small companies. We make a long-term work with the audience. We want them to understand they can not only have fun, but also have fun and think.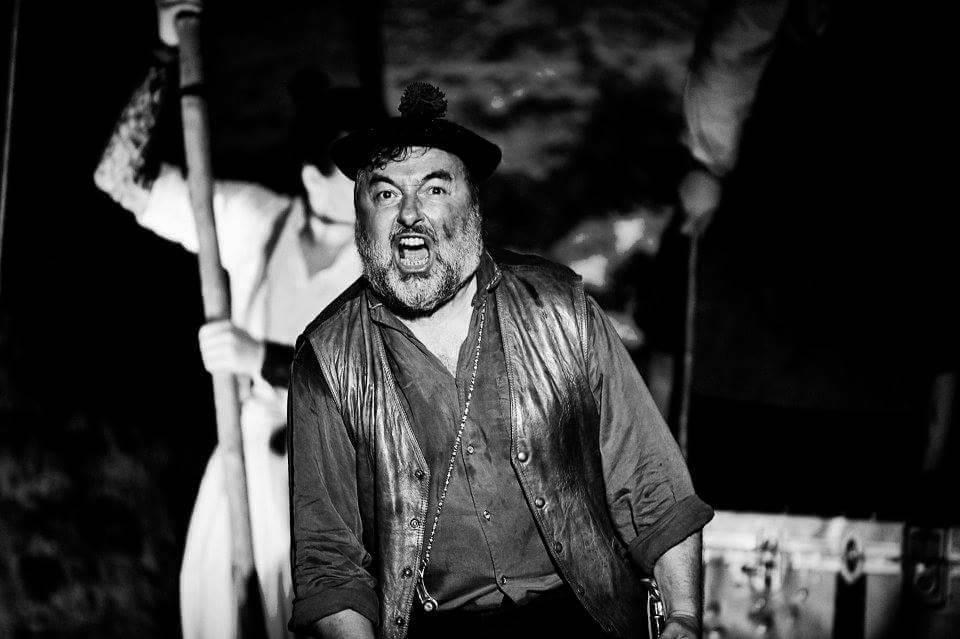 What were your ideas you wanted to express with your plays? How Arrischianti chooses its plays? Do you make political theatre?
I started by directing Camus. I love "Moby Dick" and adopted a theater version of it. I worked on "Hamlet" and "Much a do about nothing" by Shakespeare. Six years ago I started writing plays. Now I direct my own plays. I look not at a political content. I am not interested in taking a party position. I am interested in political issues, but taking the idea the politics is the way for human being to live together. Aristotles says that human is a political animal.
Politics starts when you live together. Politics comes from community, from polis. I am interested in political theater in this sense. I am interested in exploring inner feelings and deeper meaning. I am interested in migrant issues, in troubles, in disease, in what is normal and what is oddity. When I directed Hamlet I was interested in his view of the world, because he says "The time is out of joint". For me this is my inner feeling into the world. I ask myself who and what is normal.
I read a criticism about you that you always create some kind of suffering in the spectator…
Yes, I try to take something that is difficult to speak of – like gender problem, like tabu, and speak about these issues, but trying to make fun with the audience. So the audience starts not to be scared by these issues.
E.g. I wrote a comedy about suicide. People were laughing. In one of my monologues I spoke about being transsexual. I put it in a very poetic way. So people started crying when hearing it. They couldn't say: "I hate him because he is transsexual". They saw him as a human.
What is your message about man of rebellion and about absurd in life? How do these ideas make their way to your plays?
The first three years to my theater school (2009-2011) it was all about rebellion. We explored issues about Woodstock, about rock'n'roll, about being pacifist. Then I mounted a play about being different from anyone. Italo Calvino wrote a novel about a young boy which decided to live on a tree all his life. He didn't separate himself from the society, he was communicating and was a part of society, but he lived on a tree. Another play was from Camus about tyranny and totalitarianism.
I don't mean absurdism in the sense of theatre of absurd. I am interested in the Camus' way of absurd. It is the confrontation between man and world. Man looks at the world and feels the absurd of his life. I think that in my plays the audience would feel this absurdity, and wake up to its humanness, to its condition of limits, but also freedom and need for shared sense. Shared sense is an important part of Arrischianti's contribution to community.